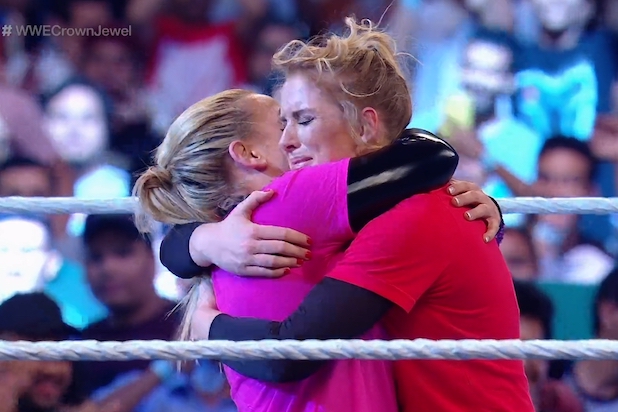 Brian Damage
Make no mistake about it, pro wrestling does have a dark side to it. There are hundreds upon hundreds of stories about the dark and sometimes sinister side as chronicled in my 'Wrestling with Sin' series. This piece is a direct opposite of that. With every bad story I have shared…there are also positive stories. Stories of wrestlers making it above and beyond the ring. Positive stories to inspire. Pro wrestlers aren't all drug addicts, scam artists and carny sideshows. They all don't die at an early age, or are broke and need to wrestle till they die. They don't necessarily have to get into acting like The Rock or Batista. They don't have to necessarily switch over to MMA like Brock Lesnar or CM Punk. Some of these stories are just about hard work, dreaming big and doing whatever it takes to succeed. We've already covered some stories as chronicled in part 1, part 2 and part 3 With that said, let's look at some positives…
Billy Corgan
NWA owner and Smashing Pumpkins front man Billy Corgan raised over 60,000 dollars for a charity called PAWS which helps homeless pets find forever homes.
Batista
Former WWE star Dave Bautista adopted an abused puppy and has offered a $5,000 reward to anyone who can locate the abuser.
Sputnik Monroe
Memphis wrestling legend Sputnik Monroe fought for the desegregation of wrestling venues believing that blacks had just as much rights as whites to sit where ever they wanted in an arena. He would also frequent many black owned businesses to show support. Sputnik would get arrested several times for refusing to leave those establishments.
Damian Priest
Current WWE star Damian Priest's amazing body transformation losing a considerable amount of weight and getting himself leaner and fit.
Jamie Hayter
The same can be said about current AEW wrestler Jamie Hayter who lost weight and got in top physical shape.
Al Snow
Al Snow saved a young boy from drowning at a Florida beach. Snow noticed the child being swept up by a strong riptide and swam to grab the boy and bring him to safety.
Gregory Iron
Gregory Iron was diagnosed with cerebral palsy as a child. Despite his limitations, Iron began a career in professional wrestling. While he wrestles mostly on the independent circuit, Iron has been a motivator and inspiration to many to follow your dreams no matter what obstacles get in your way.
Eve Torres
Former WWE Diva Eve Torres left pro wrestling and started a family with Rener Gracie. She is now a spokeswoman and head instructor for the Gracie Women Empowered self-defense program. Eve is the first female instructor at the Gracie Academy.
Nikita Koloff
Nikita Koloff walked away from a very successful and lucrative career as a pro wrestler to take care of his wife who was stricken with cancer. According to Ric Flair, he approached Koloff and offered to drop the NWA world title to him if he returned to wrestling, but Koloff refused the offer. His wife would unfortunately pass away, but Koloff became a preacher and dedicate his life to spreading the gospel and doing work for missionaries in third world countries.
Dusty Rhodes
In his later years working for NXT, 'The American Dream' Dusty Rhodes acted as a father figure to many of the developmental wrestlers. Not only did he educate the young men and women about pro wrestling, but looked after them away from the ring. Dusty would often treat the recruits to dinner and help teach the foreign wrestlers like Finn Balor how to drive.
Ace Perry
In 2014, an independent wrestler named Ace Perry surprised one of his biggest fans by asking to take her to her high school prom. The female fan named Amanda is autistic. He asked her during a show in front of other fans in attendance.
JBL
John Layfield aka JBL in WWE has certainly had a reputation as a bully behind the scenes. Despite that, JBL does do a lot of charity work for neglected and abused children around the world. He also formed a rugby organization in Bermuda to help kids stay away from gangs and drugs and help them graduate school. Layfield climbed to the top of Mount Kilimanjaro in Tanzania to raise money for his charities.
Koko B Ware
Koko B Ware once helped raise money to buy Kamala a new wheelchair after Kamala had his legs amputated. Koko also sat at Kamala's bedside after having emergency surgery and was put on life support proving the value of true friendship.
Shawn Daivari
In 2012, former WWE and TNA wrestler Shawn Daivari was a passenger on a train when a drunk and disorderly man threatened to kill everybody on board. Daivari grabbed the individual and restrained him until the next stop where the man was arrested.
Chuck Palumbo
Former WCW and WWE star Chuck Palumbo once rescued a female from a car wreck in which her car overturned. Palumbo spotted the crash and was able to move the car just enough to free the woman and wait with her until paramedics arrived.